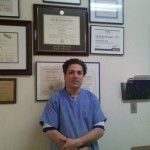 OVERVIEW
Dr. Gordon graduated from the New York University School of Medicine in 2005. He works in Bronx, NY and specializes in General Dentistry.
Patient Perspective
1.0
Explains conditions and treatments
1.0
Takes time to answer my questions
1.0
Provides follow-up as needed
Office Rating
724 Pelham Pkwy S, Bronx, NY, 10462
Gordon Jason Office

724 Pelham Pkwy S, Bronx, NY, 10462
n/a
Average office wait time
2.0
Scheduling flexibility
Gordon Jason Office
724 Pelham Pkwy S
Bronx, NY, 10462
"Awesome Dental Practice!! I was seen & treated quickly & efficiently. Dr. Salpeter if I recall his name correctly, made me feel relaxed and comfortable. The staff were ALL Professional and friendly. Highly recommend. Zulma "
"Jason Gordon is one of the worst dentists I've ever come across. If you can avid him and his practice PLEASE DO! I specifically asked for a different dentist because Gordon is rude, and does sloppy lazy work. I had the pleasure of having another dentist who works there who did an amazing job prepping my tooth for a crown. He was gentle and professional. I returned three weeks later to get my crown. I specifically asked for the same dentist, but found out he left early and that I would be stuck with Gordon. I sucked it up, and boy was that a mistake. He was beyond rude, even farting next to me. He barely numbed me. As he dug the crown into my gums, I told him I was feeling a lot of pain on my nerve and asked him to add more of the numbing agent. He began to throw a tantrum saying he doesn't want to do it, and that he's only giving the other dentist a favor. Eventually, he came back. He asked me do I want to be numbed, I said "yes, of course." I explained that I just needed a little more. ...
He then began to FORCEFULLY give me 4 more shots. He then took 5 seconds to check the tooth again and said it doesn't fit. And that I'd have to wait for the other dentist to come back to do another mold. Jason Gordon is EVIL. He had no intention of ever fitting my crown. The whole right side of my jaw and face is sore and swollen because of his negligence. I have no crown, and now I'm back to square one. The other dentist said my molds were perfect. However Gordon gets sick pleasure denying patients and also physically hurting them. I will be reporting him, and I suggest many of the other patients that he's shown misconduct towards do the same. "
Read more
"My grandmother was about to finish her appointment when the owner came and rudely yelled at her to leave because they were closed. This continued for a couple of minutes. Upon leaving the establishment the owner yelled through the door, "I told you to leave" and sprayed the door in an angle that our faces were. I have put a one star because I can't put anything lower. I am appalled that someone would harass an elderly person and demean them just for not speaking English."
Dental School
New York University School Of Medicine
Graduated 2005
DENTAL PLANS ACCEPTED (17)
This dentist accepts the following plans. This may include dental insurance as well as dental savings plans, an affordable alternative to dental insurance. With a dental savings plan, members can
save 10-60%
at the dentist.
Click here to learn more.