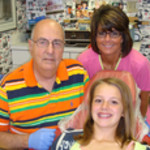 Dr. James Leo Ferguson, DDS
Orthodontics
General Dentistry
OVERVIEW
Welcome to the Website of James L. Ferguson Jr. DDS MSD In these pages I will provide you with some insight into me and my staff members and give you my opinions on current orthodontic therapies and how they relate to my practice. I will present a paper written by me and published as a letter to the editor in the American Journal of Orthodontics and Dentofacial Orthopedics. I will also give you my opinions on current controversies in Orthodontic circles. I hope that this web site will serve as an introduction to my office for those of you who have never been in my office. Perhaps when you do visit us you will recognize me and the staff and be familiar with some of the thoughts and opinions that we hold. For those of you who are already patients I hope that this site will give you further insight into what we are all about. In time and with the appropriate patient and parent consents, I hope to present actual cases that I have treated to allow you to see what can actually be
…
accomplished with Orthodontic treatment. I welcome your comments and questions. You can call me at 615-794-0698. I firmly believe that for an orthodontist and his practice to be truly successful he must adhere to the seven objectives of orthodontic treatment as outlined by the Charles H. Tweed Foundation. These seven objectives are: Positioning and arrangement of the teeth For maximum facial esthetics. For maximum functional efficiency. For a healthy and esthetic dental relationship. For long term stability. For enhancement of the favorable growth pattern and help with compensation for those patterns that are not normal; so that a continual state of maximum environmental harmony exists. All orthodontic care must be rendered in an ethical, moral and compassionate manner. No orthodontic treatment is begun in my office without a complete and through diagnosis. This diagnosis involves: Panoramic Radiograph: x-ray of all the teeth on one film from which any pathology or dental anomalies can be determined. Cephalometric Radiograph: x-ray of the head from which skeletal and dental discrepancies can be determined Diagnostic Models of the patients teeth from which measurements of dental discrepancy can be made Pictures of both the patients face and teeth. Each of these diagnostic tools is measured and analyzed and a complete diagnosis is made that will enhance both the patient's dentition and facial appearance. I do not feel that a panoramic radiograph alone is sufficient to make a real comprehensive diagnosis and I do not support the placement of orthodontic appliances on the patients' first appointment. This mindset assumes that no diagnosis is necessary and that every patient is the same and can be treated the same. I treat every patient as a unique individual with a unique set of problems to be solved. I hand make the arch wires that are placed in the patient's mouth and each one is designed for that patient and that patient's problems. I personally place the orthodontic appliances on the patients' teeth because I feel that this is too important a procedure to be delegated to assistants. All of my assistants are Registered Dental Assistants. Dr. James L. Ferguson Jr. DDS MSD is ready to work for you. Please call 615-794-0698 to schedule your appointment today!
View more
Dr. Ferguson's Rating
Be first to leave a review
Be first to leave a review
LOCATIONS
James L Ferguson Jr Dds Msd
100 Covey Dr
Dental School
Saint Louis University School Of Medicine
Graduated 1968
INSURANCE PLANS ACCEPTED
Please verify insurance information directly with your doctor's office as it may change frequently.